nursery update
March 2, 2011
The last time you saw Rico's nursery, it was a complete and total disaster.  Oh yikes.
Thanks to a few weekends of purging, though, it's looking much, much better.
We purchased a new light fixture from CSN stores, and because we bought it from their clearance center, we saved about $200 (paid only $80 for that beast of a light fixture!).  (Their clearance center contains all sorts of goodies that people have returned… based on the packing slip in our box, we found out that the previous owner didn't like the color of the shade.  Works fine for us!).  The light is ginormous – 22.5″ diameter – which was perfect for our needs since we had an ugly square recessed light that was 16″ across.  The hugeness of this thing means that we didn't have to try to patch any plaster or repaint the ceiling — the new light covered the entire hole left by the old recessed lighting!  Also: kudos to my husband for installing it himself!
We're hoping that the crib & a small rocking chair will fit on this wall (although that might be optimistic, given the tiny size of the room).  I am in love with a white Jenny Lind crib, so hoping to get that & fit it with yellow bedding.
Also, this chair made it's way to our house last week (but with deep purple cushions), another sale find by yours truly.  I have plans to recover the cushions in a bright yellow fabric… maybe this one?  Either way, I think it goes smashingly with the mid-century dresser that's already in the room…
The rusty metal closet doors will be removed & replaced – either by new wood doors or some sort of curtain.  I think I'm also going to try to convince someone to paint the inside of the closet a fun color — yellow?  turquoise?  or maybe even just white…
And you'll notice that JT's already hung curtain rods in preparation for the floor-length curtains I'll be making from the fabric below.  I've had two HUGE panels of the fabric for at least two years now (it was bought on clearance at Urban outfitters — $9 for enough material to make 2 floor length curtain panels was just too good to pass up).
I also picked up the cute white elephant lamp a few weeks ago…  I might recover the shade (the texture of the material is weird and stretchy and kind of shimmery and it's not my favorite).
I'm also starting to look into other fun kid fabrics that I can somehow add to the room… maybe in the bedding or throw pillows or wall hangings?  There is just too much cute fabric out there!  Below are some fabrics that I'm loving right now (click on the picture to be redirected to the store/name of each):
I've also been stalking cute DIY mobile & rug options (the brown rug can stay… or it can go…).  So far, these are my fav (again, click photo to be redirected to the source):
And, of course, I've also been scoping out all sorts of fun things, from crocheted animal softies (that I hope to convince my gramma to make for Rico, since I have no clue how to crochet) to Anthropologie's faux animal heads (I could totally DIY this, right?) and ceramic animal hooks (although I haven't decided whether I am willing to spend $20 for something that's going to be covered by whatever is hanging on it?).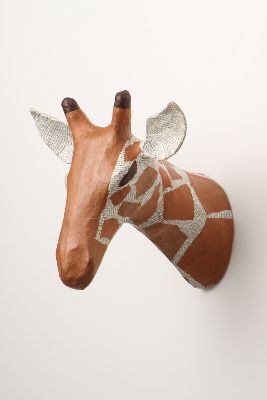 I think the only hitch may be that this baby is coming in 4 months, and my "to do" list may be just a tad too long…